SBG-001
2015-10-19 15:32:35 Source: Views:
PC/ABS toughening compatilizer
Product Introduction
Fine-blend® SBG-001 can increase the toughness of PC/ABS, but also improve the compatibility between the two phases.
Mechanism and Advantage
Fine-blend® SBG-001 is a core-shell structure toughening compatibilizer, which combines a nucleation with polybutadiene elastomer and a shell containing high reactive epoxy groups. Compared with the SAG, SBG-001 has a particular molecular structure of the elastomeric segment of polybutadiene. It plays a role of the elastomeric toughening. While its shell with epoxy groups can react with the PC terminal groups, improving two-phase compatibility of PC and ABS.
Application Case
Case 1. SBG-001 replaces MBS to improve PC / ABS (70/30) impact strength.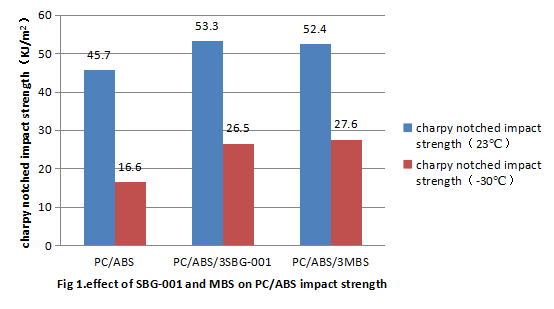 As shown in Fig. 1, after 3 parts of SBG-001 were added, the room temperature impact strength of PC / ABS increased by 17% and the low temperature impact increased by 60%, showing higher toughening efficiency, which is equivalent to MBS toughening efficiency.
Case2. SBG-001 enhanced impact strength of PC/ABS (25/75)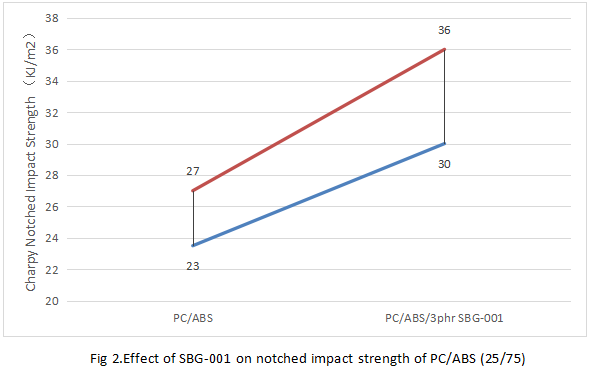 As shown in Fig 2, after adding 3 parts of SBG-001, notched impact strength of PC/ABS data increased ranging from 23-27kJ/m2 to 30-36kJ/m2.It shows that SBG-001 has excellent toughness performance.
Recommended dosage
3-5%, can be adjusted according to the actual situation.
Processing Guide, packaging and storing security information
Please refer to the product SDS.
[
TDS
] [
ROHS
]